I am so excited to show my newest patriotic picture. I have seen these on Pinterest so I set out to make my own.
I visited my local Applebees and asked them to save bottle caps for me. They agreed and weeks later I had enough to make this beautiful flag.
I picked a nice piece of plywood and thin trim to make a frame. Cut it the size that I needed. Stained it with gray. Sanded to ruff it up a bit. Then glued the caps on in a prelaid out pattern. Vuola!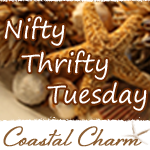 http://www.tipjunkie.com/post/tip-me-tuesday-happy-crafters-share-8-4/